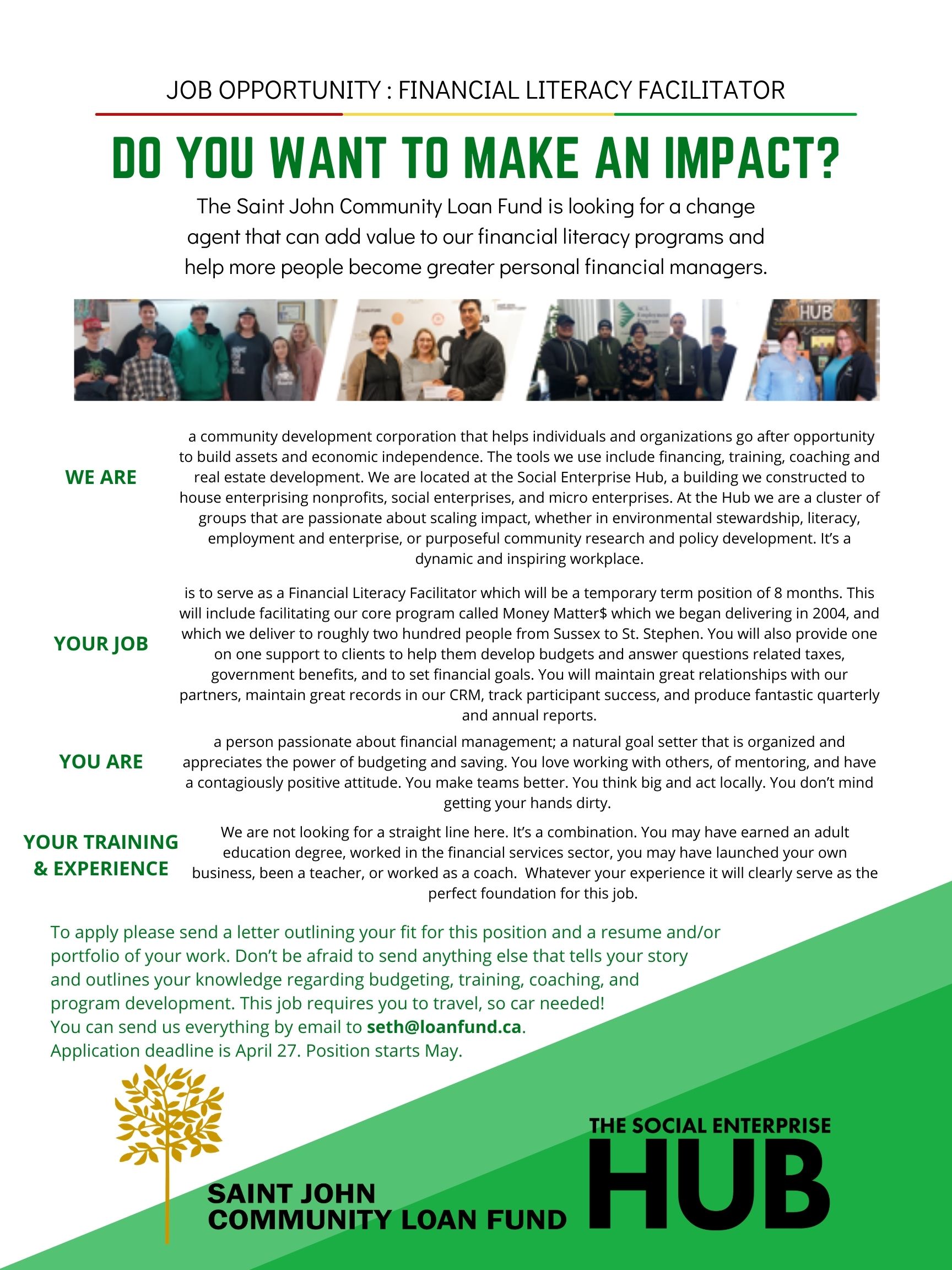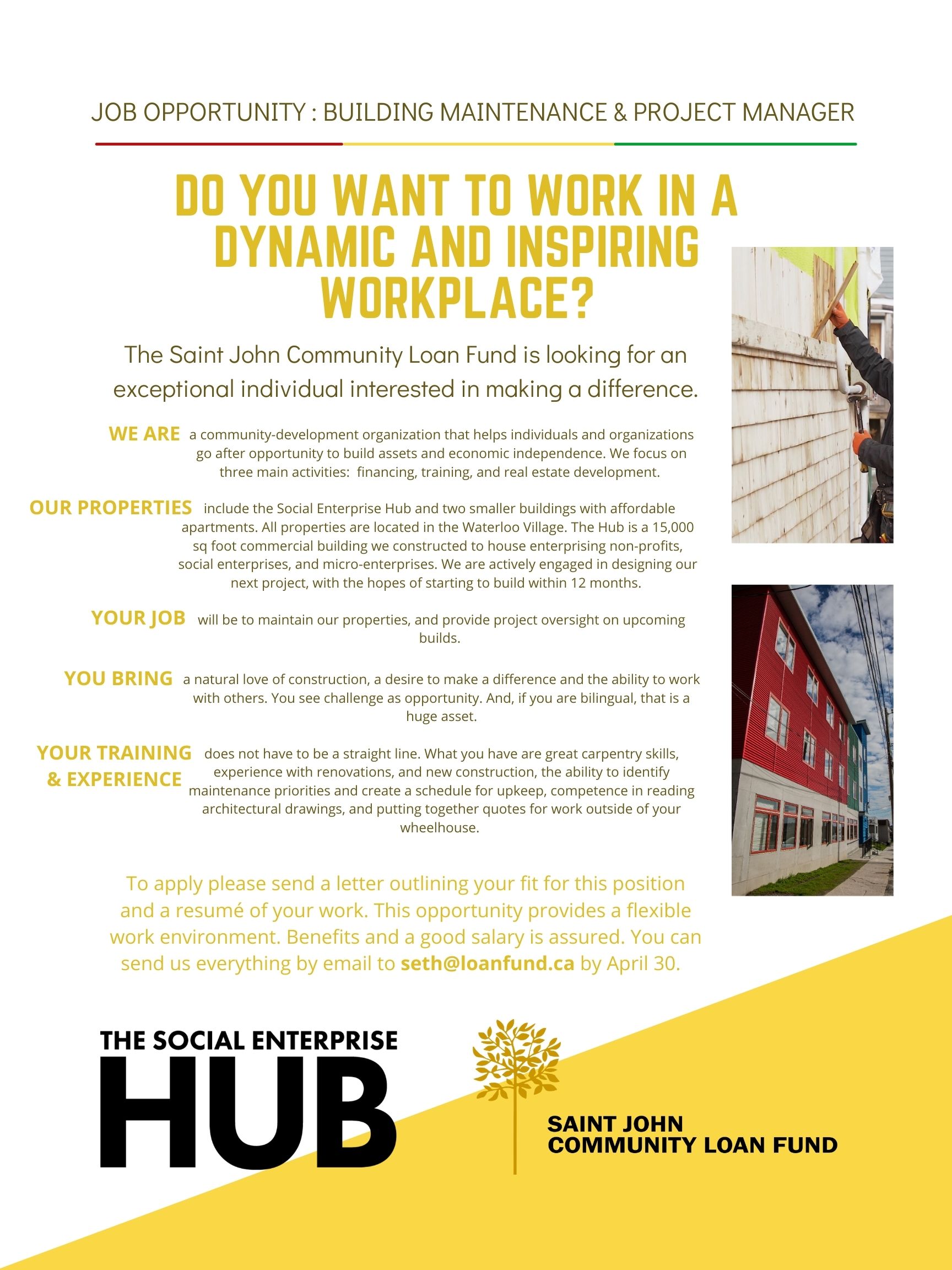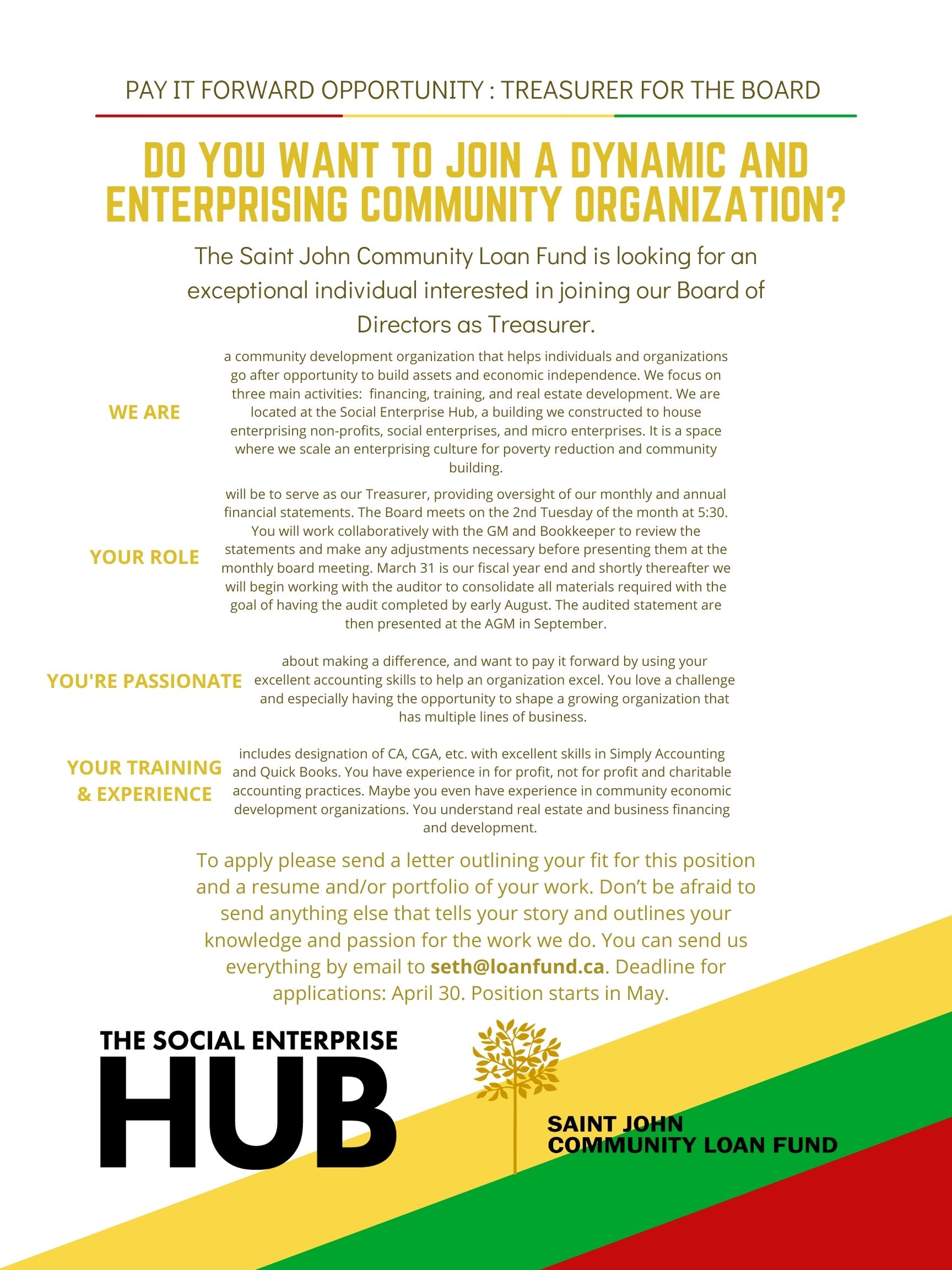 DIGITAL INTERN OPPORTUNITY : BUILDING ONLINE PRESENCE
Do you want to work in a dynamic and inspiring workplace? The Saint John Community Loan Fund is looking for a recent graduate to serve in the role as intern in digital media.
We are a community development organization that helps individuals and organizations go after opportunity to build assets and economic independence. We focus on three main activities: financing, training, and real estate development. We are located at the Social Enterprise Hub, a building we constructed to house enterprising non-profits, social enterprises, and micro enterprises. It is a space where we scale an enterprising culture for poverty reduction and community building.

Your job will be to review our digital platforms, assist in bringing a seamless online presence, with website, media, digital forms, etc.
You are a creative thinker with an entrepreneurial mindset. You work hard. See challenge as opportunity. You make teams better. You want to make a difference. You think big and act locally. You don't mind getting your hands dirty. You are skilled at working with others; at research, writing and developing great material; at financial analysis and modeling; and well, a lot more. If you are bilingual, that is a huge asset for work around the province.
Your training and experience does not have to be a straight line. You may have earned a degree or certificate in computer science, business, media, software development, or psychology. What you have is a passion for making change, and using your tools to make a difference.
Expert mentorship is provided as part of the internship for you to get the best out of this opportunity.

To apply: please send a letter outlining your fit for this position and a resume and/or portfolio of your work. Don't be afraid to send anything else that tells your story and outlines your knowledge and passion for the work we do. You can send us everything by email to seth@loanfund.ca. Deadline for applications: ASAP. Position starts as soon as you are ready.
This internship is funded by the Government of Canada under its Digital Skills for Youth (DS4Y) program. DS4Y, an initiative from Innovation, Science and Economic Development Canada (ISED), provides an opportunity for youth to gain valuable training and work experience needed for today's digital economy. For more information about the DS4Y program in New Brunswick, please visit cybernb.ca.
HUB CULTURE:
creative & entrepreneurial


We are always looking for creative, passionate and skilled team members that want to make a difference. The neat thing about joining the Loan Fund impact team, is that you also join a big family of collaborators at the Hub. Its an experience like no other.